2012: Potentially the Most Anonymous Orioles Team We've Seen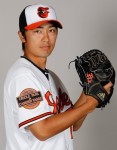 Not a lot of free time these days, and that's a troubling thing. It means I haven't been able to pore over Spring Training reports and debate myself about who might take the mound Opening Day, or who might land the coveted 24th and 25th spots on the roster. C'est la vie. But the funny thing is that even when I do find some time to look at early returns and start considering what the roster might look like, I'm left with a weird conclusion: this is one seriously anonymous bunch.
Take a moment to perform an exercise. You're still a hardcore baseball fan, but you live somewhere else. Another MLB city like St. Louis or Miami or Toronto. You follow your home team but you also pay attention to the game as a whole.
Get yourself into that mindset and ask yourself: how many Orioles would you recognize?
I do that exercise and I come up with…
Adam Jones, but he still hasn't yet garnered the national attention he deserves. There's Brian Roberts, maybe, but he's not even really on the team right now. I'd once have said Nick Markakis but today, if we're being honest, he's more our guy than baseball's guy.
On the whole it's a relatively empty plate.
Now, let's be clear: I don't bring this up by way of criticism. Not at all. I think we have more than a few players worth watching. What I'm getting at here is not a negative thing. Rather, it's an opportunity.
Last year we had Derrek Lee and Vlad Guerrero. Guys with names. What good was it? Those names carried not only recognition but expectations. And, as we've learned so many times in the past, expectations can be a burden when they're unlikely to be met. If you sign an Albert Pujols you welcome the name and everything that comes with it. If you sign a name just to sign a name, and he's unlikely to move the needle in terms of wins, you lose twice.
Which is to say: bring on the Anonymous Orioles of 2012. Bring on the weird pitching depth. Bring on the possibility of Buck Showalter going all mad scientist on us and fashioning something interesting out of this giant bucket of spare parts. It may not be as good as a roster full of A-listers but it's almost certainly more intriguing than having name guys just to have name guys.
Like I've said before: this season is about enjoyment, and surprises are always enjoyable. One or more of these guys will surprise us. You can, almost, bet on it.