Adversity Strikes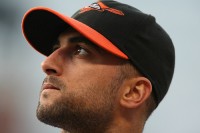 And just like that: five straight losses, three straight series losses, the loss of Nick Markakis, the demotion of Tommy Hunter, the return of poor play on the road, and the regression of both the rotation and the offense, including the utter disappearance of Matt Wieters. Wow. We all knew there might be some regression to the mean, but I'm not sure most of us expected something so sickeningly reminiscent of 2005 that it's all but unwatchable right now.
And yet somehow, amazingly, the Orioles are still tied for 1st place in the AL East with a chance to grab the lead once again in a series against Tampa Bay that begins tonight. The bad news is that it has to be done at The Trop, with the Orioles outfield consisting of Adam Jones and two question marks, and starting off against David Price. Nobody said it was going to be easy, folks.
The Orioles desperately need to find a way to tread water until the offense comes back around and until Zach Britton – and dare I say, Brian Roberts – can get back and try to help this team. A win tonight is nothing short of the biggest win of the year, considering the stakes, the opponent, and the overall morale of Birdland.