An Adam Jones Trade Would Test My Orioles Fanhood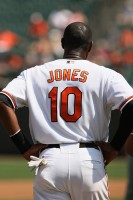 I've been noting with a wary eye the raft of recent trade rumors surrounding Adam Jones (warning: Sun paywall link). There's no doubt he's one of the team's best trade chips and could bring a decent haul in return. And, yes, a team in dire straits like the Orioles has to do the due diligence of considering any and every offer. But no matter. Trading Jones would be a mistake. A mistake of significant enough magnitude that it would seriously erode already iffy confidence in Dan Duquette's ability to handle the task at hand.
Jones' bona fides as a player are understood. He can be generally expected in a given year — on a bad team — to hit around .280, belt 20+ HR, drive in 70-80 runs, and play credible (occasionally spectacular) defense. He's not on what you'd call a Hall of Fame pace but he is a top-third player at his position.
But his on-field production isn't why I say don't trade him. Not by itself, anyway.
Jones is a star in the broader sense of the term. In an era when most players rank somewhere between "meh" and "boring" on the personality scale, Jones comes across as genuinely interesting. One glance at his Twitter feed shows as much. Put him on the Mets or Angels and I can guarantee he eventually lands in the front segment on SportsCenter for blowing a bubble while authoring a Web Gem.
Most any team would be happy to have a Gold Glove, All Star center fielder who's actually fun to watch both on and off the field. That the Orioles have such a player, despite their woeful state, is a gift.
One that, I'll grant you, would be more valuable if they were winning. Jones' personality isn't worth as much on a bad team as it would be on a good one. But this is precisely why they need to keep him around for as long as they can. If they start sniffing around .500 again then a certain percentage of lost fans will trickle back in, looking for players to fall in love with. As much as I appreciate Wieters and Markakis et al, they're not exciting personalities. Jones is, and we need that both now and, more importantly, in the future.
The right move is to try — with two seasons of team control left — to sign him to a generous but reasonable extension. Lock him up for four years, buying out two free agent seasons, and turn him into a true cornerstone. Hope that by year two or three of that deal the team is back to respectability. A trade should be considered only — only — when all reasonable options to sign him have been exhausted. Get him out of here, in other words, only if he doesn't want to be here.
I would like to believe that Duquette understands this. I'm fairly certain the communications folks do, though I haven't had any specific discussions about it. But I'm worried. Worried that Duquette will rob Peter to pay Paul, worried that we're about to be sold the fiction that Endy Chavez really has more upside than we realize.
To be fair, I'm not in the warehouse. Maybe for all I know Jones has already told the team through back channels that it'd take a ridiculous deal to keep him. But even if that's the case, if Duquette trades Jones for anything less than a massive, lopsided return, he will be making a mistake that in all likelihood does as much harm as good, if not more.