An Orioles "What If?" Worth Considering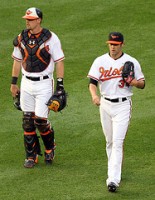 I remain steadfast in my commitment to a No False Hope doctrine for the Baltimore Orioles circa 2012. No blind predictions of a stronger-than-reasonable record, no convoluted strings of "if this, then that" scenarios. Like I've said before: this year's about the love. Enjoying the baseball and enjoying everything that comes with it, moment by moment. Nothing more until proven otherwise.
That said (you knew there was a "that said" coming)…
I do think there is one "what if?" scenario that merits serious consideration. A little bit, anyway. And it's this: what if the young pitchers who were once considered prospects — speaking here mostly of Britton, Arrieta, Matusz, and to a lesser extent Tillman — actually start to live up to their billing?
It wasn't so long ago that Knowledgeable Baseball People considered all of these guys legit. We had justifiably high hopes for them. We're not talking about Sean Douglass or Rick Bauer here, which is to say we didn't have to trick ourselves into seeing the potential. These are players who, at one point, would have been welcomed into virtually any MLB organization.
I think that fact has amplified our disappointment and, to some extent, clouded our vision. It's routine for young pitchers to go through periods of adjustment, often more than once. That process is what separates stars from competent major leaguers and competent major leaguers from ineffective journeyman. Right now I think our mood is sour enough that we're all inclined to see ineffective journeyman when, in fact, that book isn't yet written.
I don't have any illusions that any of the aforementioned players — or anyone else, actually — is ticketed for stardom. It's possible, sure, but I'm not exactly counting on it. But what if one of them becomes a two and the others become threes or fours? That'd not only lead to a few more wins, it'd suddenly create the capability to deal from a position of strength.
This could happen in 2012. It could. Not saying it will, but it's not a crazy thought.
(photo via Flickr user Keith Allison)