And Now, Friends, It's Baseball Season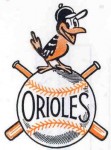 Never mind the Super Bowl. Seriously. If you can muster any enthusiasm for a match between the Patriots and the Giants (which is to say between New York and Boston) then you have something going for you that I neither have nor want. If I'm rooting for anything it's for one team to win 3-0, the next best thing to the game not happening at all.
But there's good news. We are now in the heady territory where we start to pack up the Hot Stove and turn our attention in earnest to that most lovely moment when pitchers and catchers report. February 18th for the Orioles if you don't already have it marked on the calendar.
I've been kind of hands-off this year with the Hot Stove because, to be honest, there hasn't been much to say. I do appreciate that Duquette has made strides in the international market and I like that the team appears to have more depth than at any point in recent memory. The problem is that today — before anyone takes the field — there's no clear logic to how the 2012 team will be significantly improved from the one that let us down in 2011.
Perhaps that's not fair. There is actually a clear path to improvement, it's just not necessarily a likely path.
If one or more of the young pitchers finally emerge, and if Markakis rebounds, and if guys like Hardy and Wieters stay strong, and if Reimold finally gets a chance and cashes in on it, and if…you get the idea. If a lot of things happen, this team could surprise a few people. Maybe even us.
It's not even crazy to think those things might happen. But I was hoping — still am — for something this offseason that would help tip the scale. Shoring up the foundation is great but it only goes so far.
That said, it's not even February yet. A lot can and will happen between now and Opening Day. Whatever those moves end up being, I'm starting to feel that familiar and welcome excitement about spring and the return of baseball. Because, truly, that's a great thing no matter the win-loss expectations.