Dan Duquette: Entertainer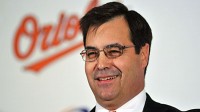 By now, it should be common knowledge that Dan Duquette has signed 49-year-old former Oriole pitcher, Jamie Moyer to a minor league contract. It's yet another interesting and amusing signing by possibly the weirdest GM in baseball. Seriously, from Day 1 when he referred to Baltimore as Boston, talking nervously in his bright orange tie, you knew it was going to be interesting.
I can't shake this impression of a big kid in the Warehouse nerding out on his Pokemon collection. Danny Boy just does his thing up there and I'm not sure anyone can make a whole lot of sense of it. From the hiring of a stunning amount of staff over the off-season to the mishap with the South Korean kid to the Dontrelle Willis saga – it's been one quirky thing after another. But what we can say is this: he's far more entertaining from a fan's standpoint than Andy MacPhail ever was. Dan makes moves – lots of them. In-season moves, no less. How many times in the past have you seen a player hit the open market mid-season and said to yourself, "Why not pick that guy up for depth?" The Orioles never really picked up that guy. But this year, Dan's picked up no less than 11 of them, all during the season. Here are his acquisitions since the start of the season:
Joel Pineiro – free agent, 4/13
Luis Exposito – waiver claim, 4/17
Mike Belfiore – Josh Bell trade, 4/22
Bill Hall – free agent, 4/23
Miguel Tejada – free agent, 5/8
Lew Ford – free agent, 5/18
Josh Barfield – free agent, 5/22
J.C. Romero – free agent, 5/24
Steve Pearce – for cash, 6/2
Nate McClouth – free agent, 6/5
Jamie Moyer – free agent, 6/6
Now, obviously injuries and questionable 3B play have played a role in the sheer number of transactions to date. However, I can't help but feel that MacPhail may have been content to roll with whatever one decent guy was available on the open market or in the farm system. Duquette, on the other hand, has employed a method that relies not only on acquiring veteran players on the open market, but acquiring a mass of them. He's literally handing out contracts like candy and seeing who sticks.
In years past, MacPhail may have indeed picked up Bill Hall, for example, but then stuck with the guy for far longer than he was actually useful. Instead of just picking up Bill Hall to fill holes at 3B and the outfield, Duquette has picked up Bill Hall, Miguel Tejada, Lew Ford, Steve Pearce, and Nate McClouth. And you get the feeling he's ready to just swap them in and out of the 25-man as necessary, contract-purchasing and 40-man roster be damned. He doesn't appear to be tied down to any one player.
It's been a refreshing and eyebrow-raising ride so far and while the jury is still out on Dan Duquette, he has done his job. He's improved the starting rotation, he's made a decision on Adam Jones, and he's acquired a heck of a lot of depth. And the O's are in first place. For now, I find it hard not to applaud the guy for at least keeping it interesting.