He's Back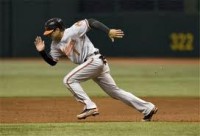 It's been a long road back for the longest tenured Oriole. But here he is, former teammate of Cal Ripken, Jr., on the verge being activated after more than a year of rehabbing post-concussion syndrome. Like many of you, as soon as he went down last year, I decided to mentally consider Brian Roberts retired. It seemed like the healthiest way to think about the Orioles sans Roberts – if he ever "came out of retirement", well that would just be a cool bonus.
And yet even as he is set to return, questions remain – this isn't as simple as someone coming back from a pulled hamstring. He's noticeably thinner, he won't be diving head first into bases, he likely won't be attempting to steal a base for awhile, and who knows how his bat will play. To expect the Brian Roberts that we all know and love would be setting urp for disappointment. While I expect him to be pretty good, he is 34 so he was going to be declining regardless of any brain trauma and rustiness. But without question, it's going to feel pretty good (and probably weirdly nostalgic) seeing him bat in that lead off spot again, something that basically no one has been doing capably all year. And I would wager it's a nice morale boost for an Orioles team stuggling to keep treading water in the standings.
Welcome back, B-Rob! Here's hoping you finally get to play in some meaningful games.