On Mike Mussina, Who Deserves Only What He Deserves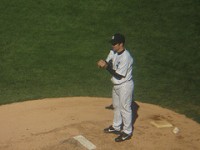 So news came down Wednesday — not unexpectedly — that Mike Mussina has been elected to the Orioles Hall of Fame. And thus we reopen old wounds.
There's no question that Mussina is one of the best pitchers to ever wear an Oriole uniform, and certainly the best we've had in twenty years. Hell, maybe thirty years. That counts for something and I'd never want to diminish it. But it is diminished.
It is for me, anyway, because to this day I don't consider Mussina an Oriole. And I never will.
I don't blame him for leaving Baltimore. I'd have left, too, in his shoes. He took a discounted deal once and refused to do it again when the Orioles failed to come in at market value. Fair enough. And on a purely business level I don't actually fault him for joining the Yankees. Highest bidder is highest bidder, after all.
But here's the thing about "business" decisions: they come with consequences.
It's easy to trot out the "it's just business" trope in the face of unseemly acts but that doesn't mitigate the fact that such acts don't occur in a vacuum. Simply because something is the "right business decision" doesn't mean that everything else gets ignored.
In Mussina's case — and he's a smart man who no doubt knew and knows this — the decision to join the Yankees was also a decision to sever ties with the Orioles, at least partially. That's the way it goes. You come up through the system and become a beloved player, then bolt for the most hated of hated rivals because they offered you the most cash? Fair enough. But you're no longer an Oriole.
Which is to say, and let me be clear: Mussina is not an Oriole.
He's a former Oriole who deserves credit for what he did here on the field, but that's it. His name doesn't belong with those of Ripken and Robinson and Murray. It doesn't even belong with names like Boddicker or Bordick. Mussina was a first-tier player when he was here, but he became a third-tier name when he joined the Yankees.
Maybe that sounds harsh and maybe it sounds like sour grapes but in reality it's neither. It's simply what it is. Just like his decision to head to New York.
There's more to sports than just what happens on the field. Choices matter. You can't leave the team that groomed you and gave you a chance to be great for that team's most bitter rival without giving up something in return.
So, welcome to the OHOF, Mike. May your ceremony be brief and your applause muted. You deserve that much and nothing more.
(photo via Flickr user jacorbett70)