Orioles 2012: Postmortem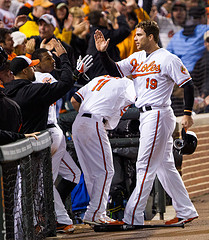 I've had a hard time writing this post. I've started, then stopped, at least three or four times. A hell of a season came to a close up there in Yankee Stadium last Friday night. There's a lot to process.
One thing I know we must do, first, is remember.
Back in March these Baltimore Orioles were slated for failure, locally and nationally, by everyone with an opinion. I can't recall a single prediction of .500 or better and I know nobody was crazy enough to suggest, let alone predict, a playoff appearance.
By way of example, Mr. Ken Rosenthal — as sad a hack as you'll find working today, but that's another story — said: …this sorry franchise…is headed for its 15th straight losing season.
(For fun, click that link to see how Rosenthal also predicted that we wouldn't sign Adam Jones and would, instead, "do nothing.")
I know nobody has forgotten how bad this team was supposed to be, but I want everyone to remember it with purpose. This team was supposed to be awful. Some folks — it doesn't matter who — said they'd lose a hundred.
So, take just a moment to remember how things looked and felt in March. Really remember. Because when you do that, you'll be forced to notice that what these Orioles accomplished in 2012 was so amazing that it is actually beyond impossible. It was so far out back in the spring that nobody even raised the notion for purposes of rejecting it — the fact that it wouldn't happen was assumed as a given by everyone who talks about this team and baseball at large.
So, yeah, what happened up in New York sucks. The bats went dead at exactly the wrong time and too many guys came up short in key moments. They battled hard and conducted themselves well but the lost opportunities sting. That was a winnable series.
But, honestly, I don't care.
The theoretical goal for every team, every year, is a championship. But we know baseball and we know that championships don't just happen like that. For most teams that mountain has to be climbed in increments. Getting there is more of a two, three, four season process.
By that measure, the Orioles skipped a few grades. I think most of us would have been cool with something like 75 wins this year, 80-something next year, and then legitimate hopes of playoff contention in 2014. Instead we got way more than we hoped for.
And it's glorious. Awesome. Amazing. I can't wait for February when these guys report for spring training with a fresh taste of success and a hunger to double down on it.
That said, nothing's guaranteed. So if there's one way to wrap up the 2012 Orioles it is this: they are no longer a laughingstock. No longer an afterthought, no longer a non-factor. They matter again.
That, my friends, is huge. Soak it up and raise a glass. These guys did it right and none of us will ever forget it.
(photo via Flickr user Keith Allison)