Orioles: A Changing Of the Guard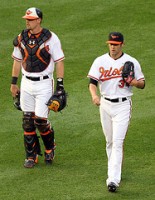 I started thinking about this idea when I first learned that Jake Arrieta would start on Opening Day. Then I delved a little deeper as I considered just how unlikely it is that Brian Roberts will ever be, well, Brian Roberts again. Take those two nuggets and throw in a bunch of other concerns and the conclusion is clear: these Orioles have turned a corner of sorts.
Whether or not Arrieta becomes a true #1 (he's not yet) the fact that he's our #1 is significant. He's homegrown and young, and he's got legit talent. Like, "other teams would probably love to have this guy" talent. He's a real contributor who started out as a real prospect, and did so in "this" era of Orioles baseball.
Roberts, on the other hand, has been and now likely always will be a reminder of the previous era. He, too, is a legit talent who had been at various times coveted by other teams. He, too, is homegrown. His particular burden is that he came of age, then passed through age, when there just wasn't much around him. A more cynical mind might wonder what he could have accomplished on a stronger team backed by a stronger organization.
We'll never know that, of course, but what we do know is that we've turned the page on the Brian Roberts era and are now into something else. Which makes me wonder: where will a guy like Jake Arrieta be in, say, five years? And will this organization have done right by him?
The 2012 season remains unlikely to be a winning season, but it very well could be a season where we start to answer questions like that. One way or another.