Orioles-Yankees "It Matters In September" Open Thread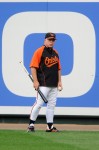 Comments aren't as active around here as they used to be, owing no doubt to my reduced posting schedule, but the quality of the ones we do get is as strong as ever. And since business is going to keep me more or less away from The Loss Column this weekend, I figure the thing to do is open the floor for an ongoing thread about this weekend's big series against the Yankees.
It's been so long since we've had baseball like this at Camden Yards that even if you were around for the last time ('97) you're a different person now. A lot changes in 15 years. And tomorrow (let alone next year) is never guaranteed, so let's enjoy the absolute hell out of it.
However you're taking in the games — at the park, at a bar, on TV or radio at home — chime in and let's make this the grandest Open Thread these parts have ever seen.
Because who knows? By Monday we might have even more to talk about. But even if we don't, this one's big.