O's Hot Start Is Both Awesome and Nothing (Yet)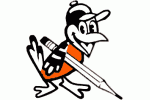 As starts to the season go there's literally nothing better than 3-0 on the strength of clean play and strong pitching. It's ideal, the very definition of a best-case scenario. It's exciting.
That said, this team also started last year 3-0. On the road, to boot. In fact they started 4-0. By the 12th game they were 6-6 and would never find themselves in the black again.
I bring this up not to dampen anyone's enthusiasm or joy. I simply bring it up for perspective. I'm going to hammer the No Expectations, Just Baseball mantra all year because that's the responsible thing to do. We're going to reach a point where we need to smooth over some bad times and we can only, truly do that if we understand that to some extent we must also temper our reactions to the good times.
In other words, enjoy times like this but enjoy them for the right reasons. Resist the temptation to cheat yourself out of what is in favor of what might be. Because, after all, only one of those things is guaranteed.
Now, bring on the Yankees.