Ravens Championship Sunday Thoughts/Reaction Thread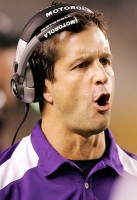 One thing I have to note up front: as much crap as I have given (and will continue to give) Baltimore sports fans for their en masse abandonment of the Orioles I am nevertheless impressed by the energy in this city surrounding the Ravens. Wherever it's coming from — and wherever it may go — it's good to see for now.
And, as it happens, I believe said energy will both stick around and grow. For a few more weeks, at least. I think there's an air of destiny about this group and I think they'll handle their business up in Foxboro. Sometimes with a team like this you can just see, or feel, something. Plus it's Ray Rice's birthday today and that's just too perfect.
Have fun today, ladies and gents.