Second Half Storylines as the Orioles Limp Into the Break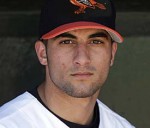 For at least a few weeks now I've been eyeing up the All-Star break as a kind of lighthouse for the Orioles. If they could get there safely, I figured, that'd be a good sign. That's still the case despite Sunday's loss in Anaheim — which leaves them 4-6 in their last 10 games but 45-40 overall. It's a tale of two teams.
On the one hand, this has been a ridiculously successful first half. No O's fan can suggest for even a moment that he/she wouldn't have been happy back in April if someone had told them the O's would be five games above .500 at the break and in contention for a playoff spot.
That's one side. The other is, they're looking ready to burn that cushion and get onto the business of struggling.
But they made it here, to the break, without folding. And now they have a chance to rest, regroup, and hopefully right some of the wrongs we've been seeing for the past month or so.
With that in mind, here are my second half storylines to look for:
Trades
I've said before that I believe the O's should be buyers and I'm not changing my mind just yet. As long as they're smart about it — e.g. no giant haul for a rental like Greinke — then I think there's no reason not to try to make the run. Key is, the return has to improve the team overall and not just for the final two months. I have no idea whether or not we should trust Dan Duquette in that regard.
Brian Roberts
If I'm being honest? Roberts is done. I just don't see him making it back to being the same guy who gave this team so much before he got hurt. I feel like it's always going to be one thing or another from here on out. That brings me no joy whatsoever but it's how I see things going.
Nick Markakis
Markakis wasn't having an amazing year before he got hurt but it's hard to ignore the fact that overall offensive performance started to trend downward right around the time he went to the DL. I'm harboring a secret hope that his return sparks the lineup back to life.
Hammel and Chen
Simply put: can these guys both have a strong second half? Because, if not, the house may really be made of cards.
Plenty of questions, too few answers, but consider this: we actually have something to look forward to in the second half. It's been a long time since we could say that.