The Biggest Orioles Games In a Generation (Or More)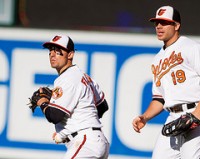 We Orioles fans can be a nostalgic bunch. This is to our credit.
We remember Memorial Stadium and we pay due homage to names like Palmer, Robinson, Ripken, Powell, and Weaver. And we don't limit it to the best of the best — names like Bordick and Anderson get their due as well. One of the best things about baseball in Baltimore is that our history is never far away.
History, however, cuts both ways. The past 15 years have chipped away at what this team means both to the community and to baseball as a whole. Success has become a distant memory, so much so that an entire generation of young fans grew up completely disconnected from the idea that the Orioles could be great. They know the old names, but they have no idea what it feels like to watch winning baseball.
To take it one step further, even 1996-97 was something of a tease. I was a fan during those years but they kind of came and went. They were awesome, don't get me wrong, but they don't carry the weight they should when viewed in broad context.
Through that prism I think it's safe to say that the next six games are the most important games the Orioles franchise has played in a generation. If not longer.
For this team to make the playoffs in 2012 would be a far more significant accomplishment than it was in '96 or '97. Those teams were supposed to be good. And, if anything, the franchise's lack of follow-through on those seasons tarnishes the legacy. Were you paying attention in '98 when they brought in Doug Drabek, Norm Charlton, and Joe Carter? If not, lucky you.
Everything about 2012 is different. This team is built the right way. We didn't expect them to be this good but, now that they are, it's easy to love them for it. It's one of the most amazing sports stories we've ever seen, right?
In that sense — both what they've accomplished and how they've accomplished it — this season represents a chance for the Orioles to reverse very damaging, long-term trends.
Making the playoffs will not alone be enough. They'll have to make sure that 2013 is not 1998. But it starts by getting in. Wild Card, division title, whatever. Just get there. Doing so would not only be the cherry on top of an already incredible season, it might just be the hard stop on negativity and the birth of a new and much-needed era for Baltimore baseball.
Six games.
(photo via Flickr user Keith Allison)