The Hangover, the Aftermath: Where Does Everything Go?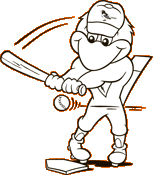 I can't say I intended to take a Loss Column hiatus after the conclusion of the Orioles' season. It more or less just happened. I think that, subconsciously, I needed some time to sit with the madness and bliss that was Orioles 2012.
I know for sure that I had no designs on a wrap-up post. I thought about it for maybe a minute before deeming the exercise pointless. As is the case with my overall approach, I cede ground like that to folks who do it better. Nothing I could have said would offer any value beyond the combination of what you already know anyway and what other blogs were/are saying.
So I just kind of took a few weeks off. No strategy, just a break.
This season was a catharsis for me as it was, I suspect, for many of you. We waited so long, and through so many tough years, that it felt otherworldly. Joyous but also hard to process. Real, but…unreal. That sounds odd but I think you know what I mean.
It's over now. We're firmly into the start of the Hot Stove season (hello, ridiculous trade) and I think we've had sufficient time to let 2012 be 2012. It's in the books, and the books are closed.
Now what?
First and foremost (and in keeping with the season) I think we need to take a moment to say thanks. To the Orioles, to Buck Showalter, to Adam Jones et al, and most of all to the Baseball Gods. They gave us something special and we must resolve to always remember it. The biggest mistake we could make would be letting this season become retroactively tainted by anything that came before it or anything that might come next. 2012 in Birdland was amazing. Let's carry that.
The next thing we need to do is start getting stoked about 2013, which means Hot Stove from now until February-ish. I'm fascinated by the questions of how Dan Duquette will approach both tweaking the Major League roster and whether or not he will be able to duplicate the last offseason's successes. It's safe to say we'll view this Hot Stove with a very different lens from the one we used last year. It's exciting.
As for The Loss Column, the next few months around here will be a mixed bag. I plan to write on roughly the same two-or-so-posts-per-week schedule that I settled into during the season but I don't know exactly what I'll be writing about. Some Ravens for sure but I don't plan to necessarily cover them game-by-game. Some other sports will no doubt sneak in. I also plan to revive my plan to do more lifestyle/culture posts. Now seems a good time.
So, I hope you stick around. I really don't have any idea of how many folks read this site these days — especially in the offseason — but, if you're there, let's have some fun.
And, thanks.