The Orioles Are In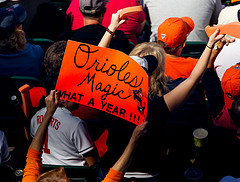 For most of this season, even as the good news kept coming, I qualified my discussion of the Orioles' playoff chances. It usually ran along the lines of "They'll probably still fade, but…" I stopped that when things started to become real, but I never, ever counted any chickens. Until now, because it's done. The 2012 Baltimore Orioles are in the playoffs.
This is the most amazing Baltimore sports story since at least the Ravens' Super Bowl win and, honestly, probably farther back than that. My head might be clouded by joy but I'm thinking it might just be the best Baltimore sports story ever.
This group was slated by a range of supposedly expert observers to lose 90 games or more. Some called for 100+ losses. Nobody — nobody — mentioned, let alone seriously considered, the possibility that they would make the postseason.
It was beyond impossible. Now, it's real.
Let's take a moment to consider that:
Jake Arrieta started — and won — on opening day.
Miguel Gonzalez wasn't on the team when the season started.
Nick Markakis has endured two stints on the DL, including absence from the stretch run.
Mark Reynolds had terrible home run numbers for 2/3 of the season.
Nate McClouth wasn't on the team when the season started.
Manny Machado is a shortstop by trade. He's also 20 years old.
Dan Duquette had been out of baseball for a decade and was widely seen as a consolation pick for GM.
I could go on.
This is the kind of season guys like John Feinstein write books about. Except that in order to do so requires some kind of hint that there might be a book worth writing. Nobody thought that this year. These guys didn't just defy expectations, they strung them up and beat the shit out of them. Time and time again.
Right now is a hell of a time to be an Orioles fan. Congratulations to the team and to everyone who stuck with them through some very frustrating years.
This is proof that possibility extends beyond the reach of that which is known. Proof that there is tremendous value in holding fast even when all rational evidence suggests jumping ship.
Proof, after all, that great things happen so long as we're willing to let them.
(photo via Flickr user Keith Allison)