The Story (And Curse) Of Andino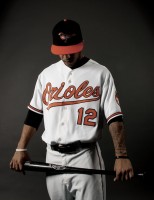 Let's pretend it's 2009. Orioles GM Andy MacPhail just made a late roster move in Spring Training, trading away former top pitching prospect Hayden Penn to the Marlins for shortstop Robert Andino. Penn was out of options, Andino was stuck behind Hanley Ramirez, and it made sense to shore up the Orioles' middle infield depth, which consisted of Cesar Izturis and Ryan Freel. Still, O's fans could only muster a shrug and a sigh that another pitching prospect hadn't turned into a #1 starter, but instead a utility guy at best.
At best!
Fast forward to September 28, 2011, and we all know the rest. But in between 2009 and that fateful date last season was a long and winding road for ol' Bob Andino, including getting on Dave Trembley's bad side and eventually passing through waivers to toil away in Norfolk. But Buck Showalter would enter (as the 3rd manager in the 2010 season) and despite mediocre numbers at AAA, give Andino a September call up, a vote of confidence, and a hat that fit. Buck saw return on that faith in 2011 as Andino filled in admirably for Brian Roberts, drawing 41 walks, hitting a respectable .263, playing good defense, notching 2.2 WAR, and best of all, bouncing the Red Sox out of the playoffs. And doing it with swagger, son.
The story doesn't end there, either, as the former 2nd-round pick is off to a blazing start in the 2012 season, batting a ridiculous .342/.388/.443 with a noticeably improved batting eye.
Certainly no one, even MacPhail, could have predicted the path Robert Andino has taken to eventually become one of the most important nuggets on the team. That's just the game of baseball. But here he is entering a series in Fenway Park as one of the Orioles' better overall players and with a patented Boston Curse attached to his name, no less.
The O's will face Jon Lester, Aaron Cook, and Clay Buchholz with their own Wei-Yin Chen, Jason Hammel, and Tommy Hunter. Another series win on the road against the AL East would certainly make upcoming games against Texas and Tampa Bay a little less daunting.
Some other nuggets:
Down goes Mo. A shame if that's how it ends for one of the more likeable Yankees, but if there was a time for the Orioles to get a jump on their AL East rivals, it's right now with a host of injuries to Boston, New York, and Tampa. Something tells me we haven't heard the last of Rivera just yet, however.
Speaking of Andino, he's been putting birds on things with Adam Jones. Nice.
Nolan Reimold looks to be DL-bound with the call going to former Red Sox catching prospect and recent waiver claim, Luis Exposito. Can't say I  saw that one coming.