Who Are You, Dan Duquette, and What Is Your Vision For Our Orioles?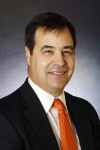 When the Orioles first hired Dan Duquette I was skeptical at best. I've never really moved beyond that feeling but I did eventually reach a place where I thought I could sort of, maybe, see what he was getting at. Revamp the front office. Shore up the organizational depth. Make long-needed international inroads. Cool, I can sign on. Nothing spectacular but nothing to really complain about, either. That whole adage about Rome not being built in a day and all.
Then he goes and trades Jeremy Guthrie — as stalwart an Oriole as we've had of late — for a couple of middling pitchers. Fine enough players, sure, but complementary pieces at most and, importantly, not prospects. Basically what happened today is that our de facto ace was jettisoned for a couple of guys who don't figure to move the needle in the short term and likely won't be around to help move it in the long term.
That skepticism I was talking about in regards to Duquette? It's back.
What this comes down to is something I think I'm always looking for in the things I want to support and/or be a part of: vision. I'm not obsessed with measurables and not even obsessed with results, at least not in the short term. I'm happy to take a long view and I'm happy to think outside the norms. Indeed, I often prefer that approach. But what I can't abide is lack of vision. Tell me "This might not seem to make sense right now but here's what I'm getting at…" and I'll probably be down, or at least willing to listen. But Duquette hasn't done that. His moves have been piecemeal. The dots don't connect yet without a stretch, and that's a problem.
I'm not saying Duquette himself hasn't connected those dots. I'm in fact quite sure he has, or at least thinks he has. But from an outside perspective it's hard to see how it all adds up.
What I want to know is what Duquette sees when he thinks about the Orioles in two months, ten months, two years. Then I want to know how moves like today's trade make sense in that context. There's a hint of that thinking in his comments on the trade (warning: Sun paywall link) but he doesn't really say anything of import. Make us more competitive…more team control…etc. Fine as far as it goes but far from inspiring.
I can't shake this feeling I have that Duquette is in over his head a little bit. I know his intentions are good and I know he's smart but I'm not sure he's up to the task. Make no mistake that I want him to succeed, just like I wanted Andy MacPhail to succeed. But if we're talking hard-money odds here then, well, I'm not sure he gets my bet. Not yet anyway, but I'm still listening and hoping to hear more.