Early Call: Ravens-49ers in the Super Bowl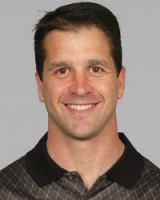 There may be no purely logical way to account for it, but I've learned in my years as a sports fan that momentum is real. Not quantifiable and definitely not infallible, but real nonetheless. Indeed, momentum — or "getting hot" or "going on a run" — is often what it takes to take a good team and make it great. Once underway it often turns that suddenly great team into a champion.
Based on what we saw last weekend in the NFL playoffs, I think the Ravens and 49ers both fit the bill. I'm betting we see them both in the Super Bowl.
The Ravens in particular have taken on the look of a team for which everything is falling into place. They struggled at the right time (losing 3 of 4 in December) and made a bold, controversial move that paid off (firing Cam Cameron). The Ray Lewis effect can't be denied, and Joe Flacco is looking like the guy every Ravens fan hopes he can be.
As for the 49ers, they struck gold with Colin Kaepernick and appear (though I haven't watched them all that much) to be a fairly complete team. They're #1 in total offense and #4 in total defense for the postseason, #11 in offense (much of it pre-Kaepernick) and #3 in defense for the regular season. I can't put much past them after what they did to Green Bay.
It's no small thing that both teams have to win on the road this weekend but it happens all the time. I like the Falcons but they barely managed to contain Russell Wilson and their defense ranks dead last for the postseason and 24th for the regular season. As for the Patriots, the Ravens beat them once this year and should have beaten them in the playoffs last year. This group knows they can win.
Add it all up and it's an easy call. I expect close games but I'm pretty sure that once the dust settles we'll be looking at one hell of a story with the Harbaugh brothers meeting to decide it all.
One last note: oddsmakers have the Ravens as 9.5 point underdogs. I'd take that bet.