Is Now the Time For an Angelos Renaissance?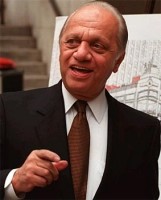 As of press time for this column the Orioles haven't been playing well. Losers of five of six before tonight, they're right on the verge of a bona fide slump. Let me say up front that it's OK. They've slumped once before this season and they'll slump at least one more time. Overall, there's no reason to think they won't be contenders to the end.
Even if they're not, though, we've already seen a playoff season followed by a +.500 first half. We're way past "fluke" territory.
Where does this leave Peter Angelos?
Go back a few years as an Orioles fan and the Angelos name hovered above everything that happened on the field. The team was bad (or, at best, "not good") and Angelos was the biggest and most convenient boogeyman most folks could find to help explain why. He was an easy demon.
The truth was always more complicated. Angelos' track record as an owner isn't exactly free from demerits but those who suggested that he didn't care or didn't want to win were peddling nonsense. Peter Angelos was never the sole reason for the team's failure, and the list of his shortcomings as an owner never included a bullet point for apathy. The business just doesn't work that way.
But what of Angelos now? With the team playing well I find I rarely hear his name.
This, then, is the place where it would seem to make sense to say that Angelos deserves to be back in the discussion. Doesn't he now warrant praise from those who previously authored scorn?
In some specific instances, sure. But on the whole? Not really.
In much the same way that Angelos was never the sole reason for failure he is not now the sole reason for success. As frustrating as it was to hear his name dredged up every time something went wrong it would be nearly as frustrating to hear his name every time something goes right.
Instead, Angelos, whether he meant to or not, has found his level. He's in the background, where he (and every other sports team owner) belongs. To the extent that we should be thinking about him it's to say, "I hope he's enjoying this. It's been a long time coming."
I can't say for sure, but something tells me that's exactly how the man himself likes it.
(hat tip to Big Ben's Motorcycle, whose comment a couple weeks back got me thinking about this)