Losing Wasn't More Fun, But It Was a Little Easier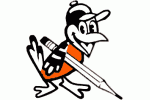 I was thinking about the 'ol Loss Column today, and the fact that I have been so lax in posting, and I found myself asking a question: were things better when the Orioles sucked?
Not the baseball, of course. And not the culture surrounding it here in Baltimore. But talking about both definitely seemed a little easier.
It's a strange situation here as I marvel at how the O's have turned a corner. I still have to check myself sometimes and remember that they made the fucking playoffs last year. Won their way in fair and square. But, see, this site was born of losing. It's right there in the title. It was a response to the fact that, at the time, not a lot of people were talking about the Orioles. When they were talking they were mainly complaining. I did my share of that at first but as the site matured it took on an identity of its own as an antidote to all of the whining and snark you could find everywhere else. It was a lovely niche.
So if I'm being honest now, and I have to be, I wonder if that niche still exists.
One of the barometers of a post here has always been that I didn't want to just offer what you could already get somewhere else. That's a lot harder to do now that they're winning. I mean, do you need me to tell you what an amazing year Chris Davis is having? How awesome it is to have Manny Machado in black & orange? I doubt it.
It is this dynamic — more so than my new (well, not really "new" anymore) job or my general busy-ness — that frustrates me. What can I add?
If the tone of this post comes across with a ring of resignation I don't mean it to. I'm not giving up, at least not yet. But I am wondering how to reconfigure things.
Any ideas?
In the meantime, how about Chris Ray reinventing himself as a brewmaster?