New World, Same World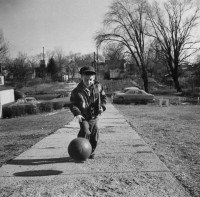 I used to have a lot of friends who loved moving. That meant travel for some and outright relocation for others. These were (are) folks for whom movement was a horizon to chase. For whom change itself was a comfort.
I tend to be more of a "stick around and see" type, and I recall countless conversations where my position ended up settling on one variation or another of: you can go, and you can enjoy going, but everything you carry inside will follow you. You can't outrun your demons anymore than you can outrun your angels. Movement is fine, but you're just tweaking in the margins.
I said this — and would say it again today or tomorrow — not as an argument for staying or going. Either choice is fine. Rather, I said (and say) it as a reminder of the need to remember that the north star doesn't hang in the sky. It lives in us.
What we're talking about here is progress. Not in the "bad to good" sense but in the strict sense of the word itself: one thing to another. "Forward or onward movement toward a destination," to borrow from one dictionary. "Forward," of course, being the only direction in which we're really capable of moving.
Sports is a proxy. There's nothing happening on any given field that we can perceive and process without the bias of our own lives hanging in the background. If we're angry, sports will fuel our anger. If we're happy, we'll find that. If we're feeling frustrated or oppressed we'll find outlets and corollaries. If we're feeling vivacious and optimistic? Also covered. Winning and losing have little bearing.
These thoughts hung in my cortex as I watched the Orioles over the weekend and realized that Red Sox fans no longer own Camden Yards. Times truly have changed.
I vividly recall — and I'm probably repeating myself — a game at the Yard probably 12 years ago. O's-Sox. Early in the season. Sox were winning as I sat in left field next to some Boston fans. They were as cool as can be, and I remember telling them that it was OK they were here because they were better than Yankees fans. This was, of course, before Boston really got good.
There are some who chase circumstances and there are some who chase something more.
Those Boston folks I interacted with back in the day probably stayed cool throughout the winning and are probably cool now. They probably aren't the same fans who filled our stadium with bad behavior in what I'll call the Youkilis era of Red Sox baseball. Meaning, the "obnoxious winners" era.
You can't outrun your demons, you can't outrun your angels. This doesn't mean you can't change, it simply means that you carry what you carry at any given moment. Nothing from the outside changes that.
So, listen, don't chase circumstances. It's a fool's game. Chase the core instead. It's the only way to come out ahead when playing the long game. Which is, after all, the only game.