Orioles: When Baseball Season Arrives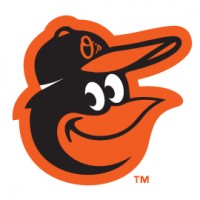 I've remarked before, elsewhere and I think here, that time doesn't fly. It accelerates. So much so that if you stop to think about it you'll probably end up in a bad place. Ten years ago doesn't seem that long. A few weeks or months sometimes feel like days. If you don't know what I mean, you will.
Thankfully, there's an antidote. Not to the disappearance of time — nobody loosens that grip — but to the acute feeling of it. That antidote is awareness. It's remembering to pump the brakes. It's listening to an old record (even digitally). It's skipping the Keurig and making a decent cup of coffee. It's letting go of the bullshit someone's trying to lay on you. It's cooking, not just heating, dinner. It's recognizing the good things and letting them in.
Baseball is, for me, one of those good things. And I'm stoked it's back.
Not only is it back, but for the first time since I was still in my teens it's back with the Orioles on the plus side. Winning team. Playoff team. What could be better than that for a long-suffering fanbase? Maybe a World Series. Baby steps.
I didn't have much to say this spring for a variety of reasons. Busy-ness, sure, but also because there wasn't a whole lot to talk about. This was a workmanlike spring for the O's and I wouldn't have wanted it any other way. They went down to Florida and got ready for the season. Nice, tidy, and simple.
What's more, I like this team. I like the pitching depth, I like the fact that they returned a playoff team mostly intact, and I like that they don't have any issues hanging over their heads. As far as I can tell this looks like a group that's aligned to a purpose and ready to get to work. Like it should be.
Prediction Time
Here's the thread where we go on record. For me, it's pretty simple: 87 wins. I think a very small fall back from last season's high is somewhat inevitable, but I believe they'll still be in the mix. I have a hunch they'll be good enough for another Wild Card, although whether or not they get it could come down to a game here or there. However it plays out I definitely do not expect them to fall back below .500.
The reason is simple. You can win with a handful of stars (A, A+ players) surrounded by a bunch of C, C+ players or you can with with a whole roster of guys who net out around a B. I think the Orioles are the latter, and I think that beyond the raw talent they've got something else going for them: it's a true team. That concept may not mean much when the talent isn't there but when the talent's good or good enough, playing well together makes a difference. That's what I expect to see.
What about you?
I'm looking forward to the season, folks. I hope you are too.