Rest in Peace, Earl Weaver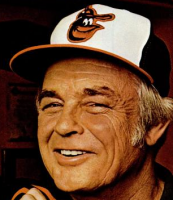 Yes, I'm a bit late on this. So be it. Earl Weaver passed away this past weekend and I wanted to let it sit for a couple of days while I composed my thoughts. I might deserve to have some dirt kicked on my shins for that but I'll happily take it.
My coming of age as an Orioles fan took place in a post-Earl era but his legacy always loomed large. I was fortunate to grow up with the Ripkens and on some level I always understood that they were playing on ground laid by Weaver. When through years of struggle we would point to the fact that this was once a great team and could once be great again, we were pointing in the direction of Earl Weaver.
I don't think this is a point that can be overplayed. Earl brought this city twelve 90+ win seasons, four American League pennants, and one World Series. Not every team has a figure like Weaver in its history. Everyone who does rightly treasures him.
That'd be enough by itself, but he also brought us something more. Personality. He wasn't a Baltimore guy by birth but damn if he wasn't a hell of a great figurehead for this city. Feisty, headstrong, always playing with an edge whether or not he had the natural advantage. There's a lot to be said for that.
Losing him closes a chapter in Orioles and Baltimore history. I'm glad he lived long enough to finally see another winning season.
Whenever we lose someone of great accomplishment I of course feel some sadness for those directly affected. I also feel a keen sense of wonder about what more we're losing besides just the man (or woman).
In Earl's case, I think about all that baseball. What would it have been like to pick his brain? Not just on home runs and defensive positioning but on everything he saw? I can't even fathom the stories, most of which (and this is just the nature of things) never went public.
So it goes. Every once in a great while an Earl Weaver comes along, and every once in awhile we lose him. There's no other way.
I can imagine that this loss hurts quite a bit for those who lived and breathed the Weaver era up on 33rd, sipping a beer and straining their eyes to catch a glimpse of him catching a smoke in the dugout. Or cheering wildly when he flipped his cap and went to town on an umpire. That couldn't have been anything but good times.
Here's to Earl, and here's to everything he did for the O's. A true one-of-a-kind, which is about the best thing I think you can say about anybody after they're gone.