This Orioles-Yankees Series Was a Turning Point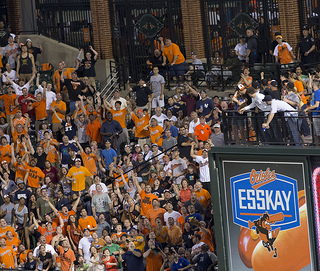 Logic would suggest that there's nothing remarkable about a home team enjoying majority support from the fans in its own ballpark. That's sort of the way it works…usually. Thus, "home" team. But as we know, such has not regularly been the case in Birdland.
Until this past weekend.
For the first time since probably '97 the Orioles played the Yankees at Camden Yards — on a weekend — and the crowd was solidly, impressively, and noticeably orange.
It was damn enjoyable. I didn't make it out to any of the games but I watched a grip of innings on TV and I loved it. Playoff (or at least late-season) type atmosphere and no sense anywhere that the venue had morphed into Bronx South. If you don't love that then you're not an O's fan.
Somewhere during Saturday's game it struck me how there was no point at which I thought, "this must mean that most of the Yankees fans are going to tomorrow's game."
Back when the O's were losing I said many times that the people who bitched and moaned about the state of the team then would not be welcome when things finally turned. Philosophically, I stand by that. In reality, though, something more important is going on: Baltimore is becoming a baseball town again.
Sure, the Ravens still rule. That might never change. But the Orioles don't appear to be playing second fiddle anymore. This might — might — be a true two-sport town again, with civic passion flowing year-round for two beloved franchises.
It's hard to play Scrooge on that. And, honestly, I don't want to. It took about a half-decade longer than I wanted it to but we finally "took back the Yard."
Well done, Baltimore. Now don't screw it up.
(photo via Flickr user Keith Allison)