You Knew a Slump Was Coming, Right?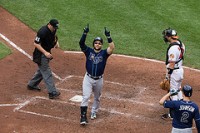 There I went in my last guest post for MASN talking about how the Orioles were officially a good team. Then there they went, rattling off five losses in a row and falling into a tie for third place (or fourth if you're a pessimist) with the Rays. Bummer.
Honestly, though, you knew this was coming. Or, at least, you should have.
A five-game losing streak is one of those things that's going to happen in a baseball season. Even to the best teams. It might even reach six or seven games. Baseball's like that. Actually, everything's like that.
One of the weirdest things about sports fans is how hard it seems for most of them to accept losing. Slumps, in sports as in any endeavor, are part of the package. There's quite literally no getting away from that. And yet I know that if I tune into today's chatter on the local sports talk airwaves I'll hear Chicken Little after Chicken Little, bemoaning what could have been if the team had only upgraded the rotation or bought another bat. As if such moves would have stopped every losing streak at four.
The long game is the hardest to play and the hardest to win. Not because it's inherently more difficult, but because so few have the patience to play it.
(photo via Flickr user Keith Allison)