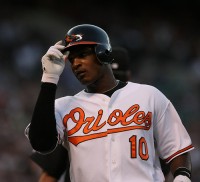 So I wrote up my weekly guest post for MASN and I talked about how cool it is that the Orioles have improved so much that a national vote is poised to land them four starters in the All-Star game. From there I got to thinking about how long it's been since we had four players truly worthy — at the same time — of this honor. To find a team in Baltimore like that you'd have to go back before my time and, I suspect, before yours as well.
Here's where that gets really crazy. It's one thing to have a handful of good players in any given moment. We've got that, and it's cool. But we might have something even more. We might have a solid group of guys who will eventually deserve a spot among the all time team greats.
Of guys who played solidly within the Losing Era I can only think of two, outside of Cal (who belongs to an earlier era), who deserve a spot on that list. There's Mike Mussina, who while I can't forgive him for bolting to the Yankees did nonetheless author quite a legacy here. Then there's Brian Roberts, who is as hard-luck a player as I can ever remember but who should not be punished for this fact. He was very, very good while things were very, very bad.
That's two guys in 14 years. You could make a case for Melvin Mora, Mike Bordick, and Miguel Tejada but I really don't think they fit. Good players, all, but not all-time team greats. Ditto Jeff Conine and BJ Surhoff. Same again for Sidney Ponson and Erik Bedard. Only Mussina and Roberts really got to that upper tier, unless I'm totally blanking on another name.
Now, though, we have at least three guys in Adam Jones, Nick Markakis, and Matt Wieters who — depending on how things play out — should settle in that top level. If Chris Davis and Manny Machado stick around and stay strong there's reason to believe they, too, could get there. There's also a case for Jim Johnson and, well, why not consider the possibility that Gausman and/or Bundy could be Mussina-level pitchers?
That's three and potentially eight players who could all claim a spot in Orioles lore among the greats. This after a decade-plus run with one guy who left and one guy who carried the torch solo for what felt like forever.
Hell, you could even decide to count Markakis as a Losing Era player and it still doesn't change the dynamic much. We're witnessing quite a renaissance here.
Maybe winning is coloring my perception some but I don't think so. We never had a Davis or Machado during the Losing Era. We never had a dynamic, engaging, world-class outfielder like Jones. We thought we had some guys, sure, but we were grasping at straws. This group is different.
On one hand, this admittedly serves as a stark reminder of just how bad the Bad Years were. On the other, well, ain't the beer cold? Finally.